Outdoor Activities
Rock Climbing & Bouldring:-
In Himachal region rock climbing has great option. In adventure sports there is no substitute for the Himalayas professional climbers from all over the world to take up the challenge of some of the most exciting and toughest, rock climbing options in the world. Click Here…..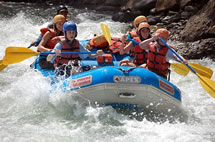 River Rafting:-
River rafting in the Himalayas is quite unlike anywhere else in the world. It provides the best opportunity to enjoy and experience the natural beauty of the spectacular landscape with deep gorges, towering snowcapped peaks, hilltop monasteries, hillside villages, and glimpses of the unique wildlife. Click Here....

River Crossing:-
River Crossing was Introduced by Western Himalayan Mountaineering Institute, Manali, A unique experience for all our guests – both children and adults. The Area around Manali offers numerous streams for this adventure experience. We, after seeing the area have found the Manalsu river ideal for this sport. The Surrounding landscape is also breathtaking – making this one day trip unforgettable. This adventure sport involves crossing a river with ropes and equipments needed for it and with our expertise we can train people. Click Here....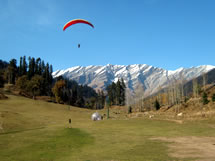 Angling and Fishing:-
Himachal Pradesh is an excellent destination for fishing and angling. Brown and Rainbow trout are famous all over the world as the best game fish. The Pabbar valley region situated upstream of Rohru has many ideal spots for fishing. Other famous sites are Chirgaon, Seema, Mandil, Sandasu, Tikri and Dhamvari. The Beas River and its side streams like the Sarvari, Parbati, Sainj, Hurla and Tirthan are also good for the fishing sport.  Click Here....
Paragliding:-
Paragliding is fast becoming one of the most accepted adventurous sports in India. Till now there are very locations which organized this sport. Himachal Pradesh in north India is one most prime destination for Paragliding. Since last many years, people from all over the world flocks to Himachal Pradesh to experience this exhilarating event. Click Here....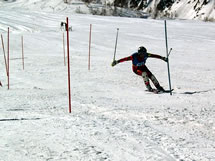 Ski-Touring/Snowboarding:-
 North of Manali stretch vast open spaces and some of the finest ski slopes in the state. Surrounding this fine ski area are majestic snow clad mountains their lower slopes carpeted with stately Pine, Fir and Deodar trees in this serene white wonderland. We organizes ski packages for both the novice and the expert. Packages are economical and conducted by expert, professionally trained skiers & Snowboarder and other support staff. In summer you can still ski further north where the 13,050 ft high Rohtang Pass straddles the Pir Panjal mountain ranges. Click Here....